More About Me
I'm a Senior Product Designer, Certified Usability Analyst and Full Stack Designer with years of experience in Aviation, Health Care, CRM and IT Services. I'm based in Boston, MA. I'm currently designing mobile applications for Federal Aviation Administration (FAA). I did masters in UX from Maryland Institute College of Arts (MICA).
I love to bring simplicity to complexity through design. Currently solving exciting and meaningful problems and growing everyday at KBR as a Senior Product Designer. I am passionate about delivering innovative designs that improve user experiences, utilizing my skills in Product Design, Human Centered Design, User Research, Usability testing, Accessibility and HTML/SCSS.
I strongly believe that with deeper understanding of the subject and with the skill of articulation, a quality product can be achieved. I have worked in different countries, adding another aspect to my experience while designing for globalization and internationalization. I focus on seeing the big picture and keeping an eye on details. I ensure to optimize the experience across all levels (UI/Product/Interaction/Service) to avoid user disappointment.
In my next job, I'm looking for an opportunity to learn and grow. I'm sure that together we can bring a smile to our customers.
Running Enthusiast, Karate Black Belt, and always ready to take up the Next Challenge. I am available for volunteering and speaking engagements.
Get in touch!
Have a peek at my learning journal, where I jot down what I've learned from projects, books and anything else!
Education and Present work experience
EXPERIENCE
PRODUCT DESIGNER
Federal Aviation Administration (FAA) – through KBR (Kellogg Brown & Root) | Formerly Stinger Ghaffarian Technologies, Inc. (SGT)
Dec 2011 - Present
EDUCATION
Master of Professional Studies (UX)
Maryland Institute College of Art
2020 – 2021 | GPA: 3.979/4.0
Certified Usability Analyst
Human Factors International, 2010
Download Resume to check out entire work experience.

References (via LinkedIn)

Jenni Nunes
KForce
Sampada is a very talented UI developer. She has worked on multiple projects for some of Kforce's top clients, and the managers inevitably ask for her back for next projects that come through, because of her quality of work. She has a great attitude, and even better personality, not to mention very professional and reliable. I will continue to place Sampada on as many projects as possible!

Eli Wylen
Technical Program Manager, Google
Sampada took our visual design and captured it as a Dojo Dijit Theme. We had never done this. She had never done this. But she learned the technology, applied her expert CSS and HTML skills, worked well with our CTO, and delivered the results on time and well tested. She is a professional and I would not hesitate to hire her again.

Sagnik Dey
Lead UI/UX Designer, DoctorOnCall
Hardworking, diligent & knowledgeable colleague I've ever had. She knows what she does & very good at it. She has solved some of the most complex CSS issues that even her peers weren't able to. Her HTML & CSS skills are impeccable. Would love to work with her again.

Aman Sheriff
Managing Director, Intivon Technologies
Sampada has designed quite a few quality websites for my clients. Having worked with Sampada for more than 4 years now, I would surely vouch for her sincerity and dedicated support. She has a good understanding of the web designing skills required for a world class website.
Achievements & Courses
AWARDS & RECOGNITIONS
OneKBR Award
For the most distinguished technical leader 2023
ADPList
Top 1% ADPList Mentor in Design for the month of September 2023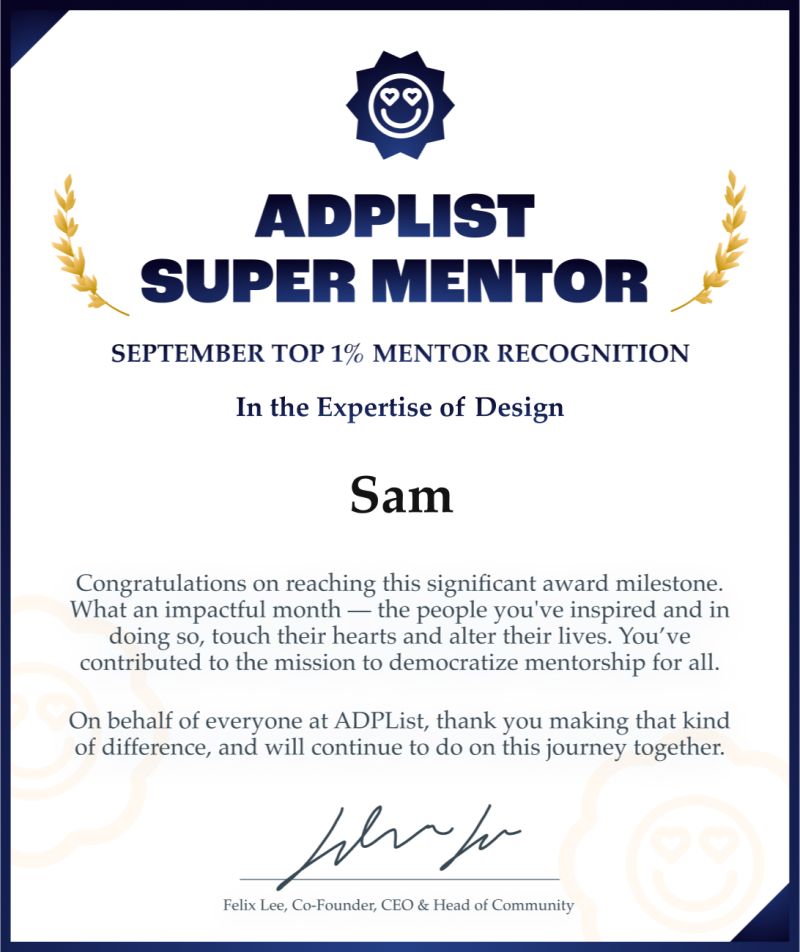 Adobe Creative Jam challenge 2021
Finalist of Adobe Creative Jam challenge for professionals for mobile app design out of 155 competitors
COMMUNITY IMPACT
Catchafire Volunteer
Catchafire volunteer since 9/23, with total impact of $8315 to date.
My Profile >

ADPList Mentor
Sharing my experiences with other designers to help them achieve their goals
Over 3000 minutes of mentorship on ADPList.
Top 100 mentors in Branding and Identity Design on ADPList
My Profile >
Brandeis University - UX Industry Mentor
Sharing my experiences with other designers to help them achieve their goals
RECENT COURSES
Scaling Design Systems
Dan Mall's course packed with in-depth knowledge of design systems
Course Details >
Top